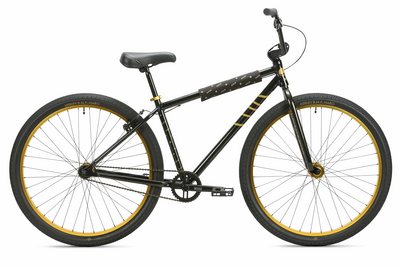 BMX or not, Chad is about that Bike Life! Riding around towns, throwing wheelies, listening to music and laughing with your friends, that is ALL CK! So it seemed to make sense to ask Chad to come up with a bike that he would be hyped to wheelie at ride-outs. The BMF is all of that, jewelry inspired graphics, paint that pops, and fitted with BMX level components so it could hold up in the air as well. The BMX is Chad Kerley, the BMF is Bike Life.
- Full Chromoly frame with 1-1/8" steerer tube and mid BB shell; 20.75" top Tube - Full Cro-Mo 2 piece steerer fork with tapered legs intenrally threaded steerer tube; 32mm offset - Haro Full Chromoly 9" rise bars - Haro Baseline stem - Haro Baseline grips - Haro Baseline Cro-Mo 8 spline 19mm cranks 170mm Length - Sealed front and rear hubs laced to 36H double wall rims - 25/9 gear ratio - Haro Baseline 2-piece seat with alloy post - Haro La Mesa tires 20x2.4" front/rear
BMX/Freestyle is deeply rooted in the DNA of our brand and that will never change. Introducing the worlds very first freestyle specific frame and fork to an emerging sport is something that we are very proud of, nearly as much as being the leading brand in freestyle 35 years later. Today BMX is not only a sport, it's a lifestyle. It's a choice you make to be a part of, a way you choose to express yourself, and it's the way you find your freedom. Haro builds a broad range of BMX freestyle bikes that help you do just that, from Pro builds all the way down to slightly more affordable yet fully capable machines. We have always had the best professional riders on our bikes which makes for a great research and development team (minus the white lab coats). The result? See for yourself!